Albert S. Ruddy
Biographical Information
Born
March 28, 1930
Montreal, Quebec, Canada
First
The Godfather
Albert S. Ruddy is a Canadian producer of the The Godfather for which he won two Academy Awards.
Biography
Edit
Ruddy also won the Academy Award for Best Picture in 2005 for the film Million Dollar Baby, which was produced by him and directed by Clint Eastwood.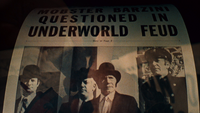 Al Ruddy has two cameo appearances in the first film. When Tom Hagen arrives at the Woltz studio, Ruddy is the guard at the gate who gives him directions. Ruddy can also be seen as a police officer next to Emilio Barzini on the front page of a newspaper.[1]
Notes and references
Edit
External links
Edit
Ad blocker interference detected!
Wikia is a free-to-use site that makes money from advertising. We have a modified experience for viewers using ad blockers

Wikia is not accessible if you've made further modifications. Remove the custom ad blocker rule(s) and the page will load as expected.