Andy Garcia is an American actor.
Biography
Edit
Born in Havana, Cuba in 1956, Gracia moved to Miami when he was five years old.
His first acting role was in Hill Street Blues, and he attained fame shortly after by appearing in mob masterpiece The Untouchables, with Robert De Niro.
In 1990, he won an Academy Award nomination for playing Vincent Mancini in the Godfather Part III, a role which catapulted him into stardom, giving him such roles as the villainous Terry Benedict in the Ocean's Eleven series, which also starred Al Pacino.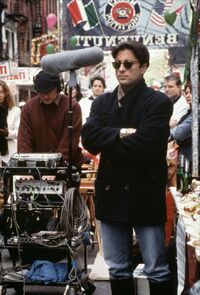 External links
Edit
Ad blocker interference detected!
Wikia is a free-to-use site that makes money from advertising. We have a modified experience for viewers using ad blockers

Wikia is not accessible if you've made further modifications. Remove the custom ad blocker rule(s) and the page will load as expected.