Maestro Anton Coppola is an Italian-American opera conductor and composer. He is the uncle of film director Francis Ford Coppola and actress Talia Shire, as well as the great-uncle of Nicolas Cage, Sofia Coppola, Gian-Carlo Coppola, Jason Schwartzman and Robert Schwartzman, and is the brother of American composer and musician Carmine Coppola. Along with his brother Carmine he conducted the score of The Godfather Part III. He also conducted the score of Francis Ford Coppola's Dracula in 1992.
He had a cameo role in The Godfather as one of the Corleone button men attending the wedding of Connie Corleone.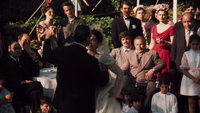 External links
Edit
Ad blocker interference detected!
Wikia is a free-to-use site that makes money from advertising. We have a modified experience for viewers using ad blockers

Wikia is not accessible if you've made further modifications. Remove the custom ad blocker rule(s) and the page will load as expected.