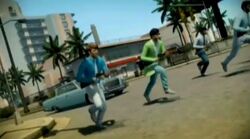 Baldo Campi was a caporegime in the Mangano family.
Biography
Edit
A Capo under Giorgio Strozzi. He earned the nickname 'Da Becchino' or 'The Gravedigger' due to his tendency to make victims dig their own graves before he executed them.
Whilst reviewing a new property at Mantanzas Construction, he was ran down by Dominic Corleone.
Ad blocker interference detected!
Wikia is a free-to-use site that makes money from advertising. We have a modified experience for viewers using ad blockers

Wikia is not accessible if you've made further modifications. Remove the custom ad blocker rule(s) and the page will load as expected.