Barzini crime family
Talk

0
1,884pages on
this wiki
Organization


Barzini crime family

In:
New York
Founded by:
Emilio Barzini
Years active:
1930s-present
Territory:
Manhattan, Staten Island
Ethnicity:
Italian, Italian-American
Criminal activities:
(labor) racketeering, conspiracy, drug trafficking, contract killing, illegal gambling, bribery, fraud, murder, loan sharking, extortion, prostitution, money laundering
Allies:
Tattaglia, Forlenza and Falcone crime families
Rivals:
Corleone crime family
The Barzini crime family is one of the Five Families operating in New York.
History
The Barzini family was formed by Emilio Barzini after the death of Giuseppe Mariposa.
The family operates mainly in Staten Island and Manhattan and has interests in Sicily and other parts of the United States. In New York, the family ran some of the gambling in Brooklyn and Queens, and some of the sports betting in The Bronx and Westchester. Over the years, they had close ties to Cleveland and the West Coast.
In 1945, Barzini plotted with rival Don Phillip Tattaglia to supplant the Corleone family and gain dominance in New York. Barzini almost succeeded, pushing Vito Corleone to call for peace after the death of his eldest son, Sonny. From the mid 1940s to the mid 1950s the Barzini family was at the height of its power and became the strongest family in New York. They began moving in on Corleone territories, which forced Salvatore Tessio, Vito's most savvy capo, to made a secret deal with Barzini.
However, the wily Don Vito discovered Barzini's plot and his son Michael took revenge, having Al Neri kill Barzini, who was succeeded by Paul Fortunato. Under Fortunato's leadership the family expanded its narcotics operation and focussed on Manhattan's garment sector. Fortunato resented the Corleone family's hypocrisy by getting into the drug business, but defended Michael Corleone against Carlo Tramonti's accusations at a Commission meeting.
Barzini family structure (1934-1955)
Historical Leadership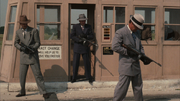 Bosses
Underbosses
Consiglieres
In the video game
In The Godfather: The Game, the Barzinis are the most powerful of the families that Aldo Trapani fights. Don Emilio Barzini ordered the death of Johnny Trapani, his father, in 1936, since he was an associate of the Corleone family. The Barzinis play the role as the main antagonists of the video game, being the last family to be wiped out in 1955 when the Barzini Compound blew up and Emilio Barzini was shot in the Little Italy Foley Square Courthouse. They can kill the player with a few shots, having the most powerful buttonmen.