This article is about Boris Amichini. You may be looking for Boris Amichini's, his establishment.
Boris "Blades" Amichini
Biographical Information
Gender
Male
Affiliation
Stracci
Corleone
Title(s)
Barber
Behind the scenes
Portrayed by
Rod Gnapp (voice)
"You wanna shave, or maybe a haircut?"
―Boris Amichini
Boris "Blades" Amichini was a barber from New Jersey.
Biography
Edit
A violent man, rumoured to be an anarchist, Amichini had a small client base due to his personality, but he was kept in pocket by the Stracci family who also used him sometimes to dispose of their enemies.
In 1948, Amichini had his business taken over by the Corleone family.
Behind the scenes
Edit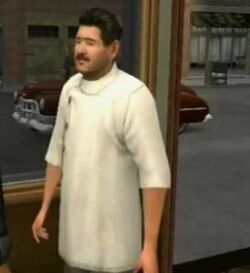 Ad blocker interference detected!
Wikia is a free-to-use site that makes money from advertising. We have a modified experience for viewers using ad blockers

Wikia is not accessible if you've made further modifications. Remove the custom ad blocker rule(s) and the page will load as expected.