Bussetta was an enforcer hired for the Corleone family.
Biography
Edit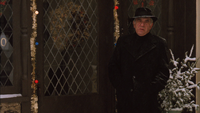 Bussetta was hired as a professional assassin and as Michael Corleone's personal bodyguard in Havana. He was one of the native Sicilians who were brought to the United States by the Corleone crime family.
He was a man of few words who was known to carry out Michael's orders with brutal efficiency. He also remained with his boss at all times, accompanying him to Hyman Roth's house in Miami in case of any treachery.
On New Year's Eve, 1958, Bussetta snuck into Hyman Roth's hospital room in Havana, after he had murdered Roth's lieutenant Johnny Ola. He was in the process of suffocating Roth with a pillow when Cuban soldiers burst in and shot him several times.
Behind the scenes
Edit
Bussetta is portrayed by Amerigo Tot (27 September 1909 – 13 December 1984), a Hungarian sculptor and occasional actor.
Tot was born in Fehérvárcsurgó, Austria-Hungary and moved to Rome, where he lived for the rest of his life. He studied in Budapest under Ferenc Helbing and György Leszkovszky from 1926 until 1928, and under László Moholy-Nagy at the Bauhaus in Germany until 1933. As the Nazis came to power he moved to Rome and worked sculpting memorials on a stipend from the Roman Hungarian Academy, where he eventually became an adviser. He fought in the Italian resistance movement starting in 1943.
He first received international recognition for his work on the frieze in Roma Termini station. He began doing abstract works in the 1950s. He returned home to Hungary several times, including 1937, 1939 and in 1969 which was a long prepared step from the side of the Hungarian communist culture-buro. At home he was a highly celebrated "world famous" artist. He had big exhibitions. He did traditional works, including a Madonna sculpture in his hometown, and very famous abstract sculptures, public monuments too, like Microcosm in Macrocosm (a tribute to Béla Bartók), His Majesty, the Kilowatt in Kecskemét. The Amerigo Tot Museum in Budapest is named after him.
In the 1960s and 1970s, he made occasional appearances in films. He is perhaps best known to English-speaking audiences for his role as Bussetta in The Godfather Part II. He also appeared in The Most Beautiful Wife and Pulp (1972).
Notes and references
Edit
Ad blocker interference detected!
Wikia is a free-to-use site that makes money from advertising. We have a modified experience for viewers using ad blockers

Wikia is not accessible if you've made further modifications. Remove the custom ad blocker rule(s) and the page will load as expected.