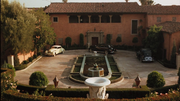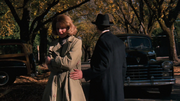 The Cadillac Fleetwood 75 was one of the favorite cars used by the Corleones in the 1940s and 1950s.
The Series 70 (models 70 and 75) was a full-size V8-powered series of cars produced by Cadillac from the 1930s through the 1980s. It replaced the 1935 355E as the company's mainstream car just as the much less expensive Series 60 was introduced. The Series 72 and 67 were similar to the Series 75 but the 72 and 67 were produced on a slightly shorter and longer wheelbase respectively. The Series 72 was only produced in 1940 and the Series 67 was only produced in 1941 and 1942. The series 75 returned after the war as Cadillac's largest model. It retained most of its pre-war styling and rode on the long 136 in (3,500 mm) wheelbase. The engine was the same 346 in L-head V8 used by other Cadillacs that year.
External links
Edit
Ad blocker interference detected!
Wikia is a free-to-use site that makes money from advertising. We have a modified experience for viewers using ad blockers

Wikia is not accessible if you've made further modifications. Remove the custom ad blocker rule(s) and the page will load as expected.