Corleone
Talk

0
1,884pages on
this wiki
Corleone
Information
Location
Province of Palermo, Sicily
Population
11,373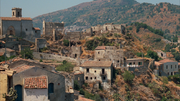 Corleone is a small village in Sicily approximately 35 miles (57 kilometers) south of Palermo. Vito Corleone was born and raised here. In 1901, Vito escaped the village after his parents and brother were murdered by the local Cosa Nostra chieftain, Don Ciccio.
Vito returned here in 1923, where he killed Ciccio in revenge, as well as eliminating his top button-men, Mosca and Strollo. He was assissted in this endeavour by Lionele Tommasino, who lost the use of his legs escaping from Ciccio's villa.
Vito's son Michael returned to the village after he killed drugs man Virgil Sollozzo and his bodyguard Captain McCluskey. Michael was protected by Tommasino, now the Don, and stayed in the home of his uncle, Dr. Taza. During this time, Michael fell deeply in love with a sicilian girl called Apollonia Vitelli and married her soon afterwards. However, she was killed in a car bomb meant for him, and Michael soon returned to New York.
In 1980, Michael came to Corleone to seek Tommasino's advice, as well as to see his son in the opera Cavalleria rusticana in Palermo. A chain of events masterminded by Licio Lucchesi and Osvaldo Altobello saw Tommasino dead at the hands of the assassin Mosca of Montelepre.
Behind the scenes
Edit
The actual locations for Corleone, as depicted in The Godfather, are the villages of Savoca and Forza d'Agrò, in the province of Messina, Sicily.[1]
The town of Corleone is known as one of the hotbeds for the Mafia and, for many years, one of the main suppliers of Mafia manpower in the United States. Many of today's mobsters, especially in the New York-New Jersey area, trace their roots back to Corleone.[2]
Among the Corleones who transferred to America were Ignazio Saietta and Peter Morello[2] (the creators of the actual Genovese crime family), Gaetano Reina and Gaetano Gagliano (the first bosses of the actual Lucchese crime family) and Jack Dragna, a powerful Don of the Los Angeles crime family.
Corleone is also associated to a very powerful Sicilian Mafia faction called Corleonesi clan.
Notes and references
Edit
↑ Jones, Jenny M. (2007). The Annotated Godfather. Black Dog & Leventhal, p. 143. ISBN 1579128114.
↑ 2.0 2.1 Sifakis, Carl (2005). The Mafia Encyclopedia. Checkmark Books, p. 123. ISBN 1592573053.
↑

Stated in interview on Inside the Actors Studio, 2006
External links
Edit