Cuneo crime family
Talk

0
1,884pages on
this wiki
Organization


Cuneo crime family

In:
New York, Buffalo
Founded by:
Ottilio Cuneo/Carmine Cuneo
Years active:
1920s-present
Territory:
The Bronx, Manhattan, upstate New York
Ethnicity:
Italian, Italian-American
Criminal activities:
racketeering, illegal gambling, contract killing, drug trafficking, extortion, murder, loan sharking, money laundering, theft, fraud, conspiracy, hijacking, bribery, fencing
Allies:
Barzini, Tattaglia, Stracci and Corleone crime families
Rivals:
Various gangs over NYC
"You can trust a Cuneo, but mess with their business then you're dead."
―Joey Blazes
The Cuneo crime family is one of New York's Five Families.
The Cuneo family started as a small operation ran out of The Bronx and upstate New York in the 1920s. Their front company was a fleet of milk trucks that delivered across the city, which earned their Don, the nickname of 'The Milkman'.
The Cuneo family had some business in New York City, mostly in Manhattan and The Bronx, but it ran upstate New York. The family also arranged smuggling of Italian immigrants from Canada, all upstate gambling and exercised veto power on state licensing of racing tracks.
In 1946, the Cuneo family became involved with the Tattaglia family against the Corleone family in the Five Families War. The war claimed several of their key members, before Vito Corleone called a hasty peace after the death of his son, Sonny.
In 1955, Don Cuneo himself was visiting one of his hotels. However, as he was leaving the building, Cuneo was trapped in the revolving door and killed by Corleone soldato Willie Cicci.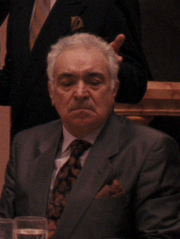 Cuneo was replaced as head of the family by Leo Cuneo, who negotiated peace with the Corleones until his death at the hands of Joey Zasa's assassins in 1979.
Historical Leadership
Edit
In the video game
Edit
When Aldo Trapani was given the guard mission in the hospital where the Don is hospitalized by Capo Peter Clemenza. There's a Corleone Soldier will say "You can trust a Cuneo, but mess with their business then you're dead" and a Capo says "The Cuneos are honorable, as long you don't mess with their business". This would imply that Cuneo family is trustworthy and a great ally to have with, this is true because Don Carmine Cuneo is seen as clean business man along with his son, Marco.
However, most of the Cuneos are cunning battle strategists and deadly warriors. As example, Capo Ronnie Tosca already planned to weakened Corleone in the war first without fighting, consigliere Luciano Fabbri already made a plan to attack Corleone, Underboss Marco Cuneo is a deadly man while his reputation is a clean and trustworthy person. Their family members are indicated with red suits.
Cuneo family structure in the video game
Influences
Edit
The Cuneo crime family could be based on the Magaddino crime family from Buffalo, which also ran upstate New York, though they weren't one of the Five Families.