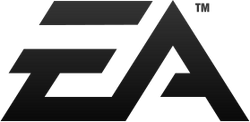 Electronic Arts, Inc. (EA) is an American developer, marketer, publisher and distributor of video games. Founded and incorporated on May 28, 1982 by Trip Hawkins, the company was a pioneer of the early home computer games industry and was notable for promoting the designers and programmers responsible for its games. Electronic Arts is the world's third-largest gaming company by revenue after Nintendo and Activision Blizzard.
Electronic Arts is the distributor of both The Godfather: The Game and The Godfather II (video game).
External links
Edit
Ad blocker interference detected!
Wikia is a free-to-use site that makes money from advertising. We have a modified experience for viewers using ad blockers

Wikia is not accessible if you've made further modifications. Remove the custom ad blocker rule(s) and the page will load as expected.