Emilio's
Business information
Location
Hester Street and Mott Street
Proprietor
Emilio Brunetti
Proprietor Weakness
Property damage
Maximum Protection
$1,500
Racket Boss
Frankie Fernetti
Racket Boss Weakness
Melee attacks
Maximum Extortion
$1,000
Venue Difficulty
Easy
Racket Difficulty
Very easy
Family
Tattaglia
Emilio's was a butcher's shop owned by Emilio Brunetti. Emilio's had been under the thumb of the Corleone family, but quickly changed hands in 1944, during the chaos of the war, when the Tattaglia family invaded Little Italy. Hoodlum Frankie Fernetti began a gambling racket in shop's upstairs floor.
Change of allegiance
Edit
In
1945
,
Luca Brasi
instructed
Aldo Trapani
to take over the butchers as a test for the young
outsider
. Trapani succeeded, and Emilio's became Corleone property once more. Soon after, following the attempted assassination of
Vito Corleone
,
Mikey Saleri
attempted to take back the butchers, but he was foiled and killed by Trapani in the back alley.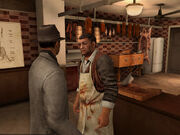 Ad blocker interference detected!
Wikia is a free-to-use site that makes money from advertising. We have a modified experience for viewers using ad blockers

Wikia is not accessible if you've made further modifications. Remove the custom ad blocker rule(s) and the page will load as expected.