Franklin Credi was a soldato in Carmine Rosato's family.
Biography
Edit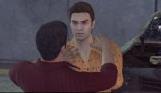 Formerly Corleone enforcer under Peter Clemenza Franklin Credi was a compulsive gambler with a talent for craps and an extraordinary lucky streak Credi was part of Norman Rossi's regime, having never rolled snake eyes his entire life.
During the Trapani - Rosatos War, Credi was killed at the Federal Building Car Park when he was strangled to death by Dominic.
Behind the scenes
Edit