Greenwich Village is a neighborhood in Manhattan, New York City.
The neighborhood was controlled by the Corleone crime family until 1946, when two soldiers were murdered in a local Italian restaurant by the Cuneo's hitmen, that took over Greenwich Village.
After the peace of 1948, Greenwich Village was probably return to the Corleone family.
Fiorello La Guardia was born here.
The Godafther: Five Families
Edit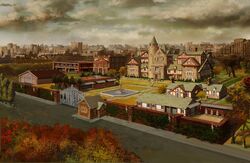 In The Godfather: Five Families, Greenwich Village is a district in Manhattan that was controlled by the Five Families during the Pacification of New York.
Businesses
Edit
External links
Edit
Ad blocker interference detected!
Wikia is a free-to-use site that makes money from advertising. We have a modified experience for viewers using ad blockers

Wikia is not accessible if you've made further modifications. Remove the custom ad blocker rule(s) and the page will load as expected.