"Michael Rizzi... will you be baptized?"
―Father Hayes
Father Hayes was a priest from St. Patrick's Old Cathedral in Little Italy.
Biography
Edit
Hayes baptised Michael Rizzi in 1955, when Michael Corleone stood as godfather. He was also the Corleone family's unofficial priest until they moved to Nevada, when that role was taken up by Father Carmelo.
Behind the scenes
Edit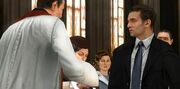 Ad blocker interference detected!
Wikia is a free-to-use site that makes money from advertising. We have a modified experience for viewers using ad blockers

Wikia is not accessible if you've made further modifications. Remove the custom ad blocker rule(s) and the page will load as expected.