Janie
Biographical Information
Gender
Female
Born
1933
Janie was a young starlet who appeared in several productions by Jack Woltz. After her first appearance, Woltz presented her with lavish gifts, only to molest her on his private jet whilst on the way to the Woltz mansion.
When Tom Hagen reports this event back to Vito Corleone, the Don is outraged, as such an act is considered an infamia. Her mother was fully aware of these actions, and in fact was unconcerned as long as they helped Janie become famous.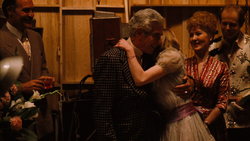 Ad blocker interference detected!
Wikia is a free-to-use site that makes money from advertising. We have a modified experience for viewers using ad blockers

Wikia is not accessible if you've made further modifications. Remove the custom ad blocker rule(s) and the page will load as expected.