Kevin Moonan
Talk

0
1,882pages on
this wiki
Kevin Moonan
Biographical Information
Gender
Male
Kevin Moonan was the son of an American politician, and former boyfriend of Maria Bonasera.
Biography
Edit
A student of New York college, he dated Maria Bonasera in 1945. One night, he made her drink whiskey, and, together with his friend Jerry Wagner, attempted to take advantage of her. This failed, and they beat her, leaving her badly bruised and scarred.
The court ruled suspended sentence to Moonan and Wagner, so Bonasera went to Don Corleone for justice. The Don sent Paulie Gatto and two others who brutally beat Wagner and Moonan, which left them in hospital for months and forced them to undergo plastic surgery.
In the video game
Edit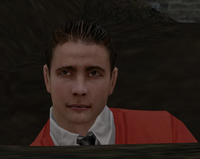 "Goodnight sweetheart."
―Paulie Gatto to Kevin Moonan
In the video game, Aldo Trapani and Marty Malone are the ones who accompany Paulie Gatto to beat Moonan and Wagner. They beat them both but Wagner managed to run off and left Moonan to be beaten by Aldo and then thrown into a freshly dug grave and knocked out by Paulie Gatto with a shovel, both men needed medical care for the next few months and were not seen around Little Italy for 2-3 years.
Behind the scenes
Edit