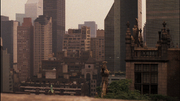 Manhattan is the smallest and most densely-populated of the five boroughs of New York City. It consists of Manhattan Island and several small adjacent islands. Little Italy is also part of Manhattan as is Hell's Kitchen and Wall Street.
All the Five Families were active in Manhattan. The Stracci family controlled the eastern Manhattan docks while the Barzini family was heavily involved the garment sector. The Corleone family also had business interests in Manhattan, particulary in Little Italy and Wall Street, and the Tattaglia family owned several nightclubs in the borough.
External links
Edit
Ad blocker interference detected!
Wikia is a free-to-use site that makes money from advertising. We have a modified experience for viewers using ad blockers

Wikia is not accessible if you've made further modifications. Remove the custom ad blocker rule(s) and the page will load as expected.