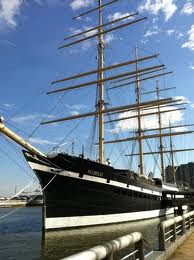 The Moshulu was a sailing ship that sailed from Italy to America in the early twentieth century. Many immigrants boarded this ship to seek their fortune in America. One of those immigrants was Vito Corleone, who arrived in America from Sicily in 1901. It is not clear, from the film, whether young Vito is aboard the ship because the scene is shot from the POV of the immigrants and the Moshulu is seen, in shot/reverse shot style, between the POV and the Statue of Liberty. Readers Note: The Moshulu is obviously NOT the only ship carrying immigrants to America and since it's headed OUT of NY Harbor it's also clearly NOT the ship young Vito came to America on.
Behind the scenes
Edit
In reality, the ship was built in 1904, three years later than it appears in The Godfather Part II. Today the ship serves as a restaurant and museum and is docked at Penn's Landing in Philadelphia.[1]
Notes and references
Edit
External links
Edit
Ad blocker interference detected!
Wikia is a free-to-use site that makes money from advertising. We have a modified experience for viewers using ad blockers

Wikia is not accessible if you've made further modifications. Remove the custom ad blocker rule(s) and the page will load as expected.