Ad blocker interference detected!
Wikia is a free-to-use site that makes money from advertising. We have a modified experience for viewers using ad blockers

Wikia is not accessible if you've made further modifications. Remove the custom ad blocker rule(s) and the page will load as expected.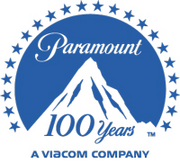 Paramount Pictures is an American movie and television company founded in 1912. It is the second oldest existing film studio in the world and the last major film studio still headquartered in the Hollywood district of Los Angeles. Paramount is consistently ranked as one of the largest top-grossing movie studios.
Notable films
Edit
| Name | Years |
| --- | --- |
| The Ten Commandments | 1956 |
| Vertigo | 1958 |
| The Fall of the Roman Empire | 1964 |
| Once Upon a Time in the West | 1968 |
| The Godfather | 1972 |
| Serpico | 1973 |
| The Conversation | 1974 |
| Chinatown | 1974 |
| The Godfather Part II | 1974 |
| Escape from Alcatraz | 1979 |
| The Elephant Man | 1980 |
| Gallipoli | 1981 |
| Reds | 1981 |
| The Untouchables | 1987 |
| The Godfather Part III | 1990 |
| Friday the 13th | 1980 |
| Raiders of the Lost Ark | 1981 |
| Indiana Jones and the Temple of Doom | 1984 |
| Indiana Jones and the Last Crusade | 1989 |
| Forest Gump | 1994 |
| Braveheart | 1995 |
| Titanic | 1997 |
| The Truman Show | 1998 |
| Saving Private Ryan | 1998 |
| Indiana Jones and the Kingdom of the Crystal Skull | 2008 |
| Shutter Island | 2010 |
| True Grit | 2010 |
External links
Edit