Paul Ricca
Talk

0
1,885pages on
this wiki
Paul Ricca was a high ranking member of the Chicago Outfit.
Biography
Edit
An immigrant from Naples, born Felice DeLucia, Ricca rose very quickly in the gang ranks, frequently serving as Al Capone's emissary to the East Coast gangs. The two soon became good friends; in 1927, Capone served as the best man at Ricca's wedding. In 1929, Capone and Ricca attended the Atlantic City Conference in Atlantic City, New Jersey, the first meeting of all the major criminal gangs in the United States. In 1930, Capone sent Ricca to New York City to serve as his emissary in peace talks aimed at ending the Castellammarese War between the New York Italian-American gangs, namely Vito Corleone and Giuseppe Mariposa.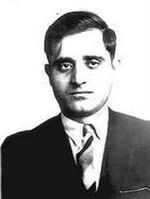 In 1932, Capone was convicted of tax evasion and sent to federal prison. Capone's nominal successor was Frank Nitti as boss of the Chicago Outfit with Ricca as underboss. However, Ricca held the real power in the family. Ricca frequently overruled Nitti's orders. In addition, the leaders of the emerging Syndicate, including Lucky Luciano, dealt only with Ricca, not Nitti.
Ricca died of a heart attack on October 11, 1972.