Raphael Rulandi
Biographical Information
Gender
Male
Affiliation
Barzini
Title(s)
Associate
Behind the scenes
Portrayed by
Ralph Peduto (voice)
"Son, it's your lucky day. I accept."
―Raphael Rulandi
Raphael "The Jack" Rulandi was an associate of the Barzini crime family.
Biography
Edit
A notorious gambler and associate of the Barzini family, Rulandi was sent to Las Vegas to observe the Corleone family's progress there. It was at this time that he fell in with Moe Greene. When hotel owner Toben Greenwood fell behind in his debts, Rulandi allowed Greene to collect by creating a casino in the basement of The Peak in Midtown. With the excess profits, Rulandi bought a flowershop for his girl, Suzie Boccino.
In 1955, Rulandi fell under the influence of the Corleone family, and his casino operation fell apart following a raid and the death of Moe Greene the following year.
Behind the scenes
Edit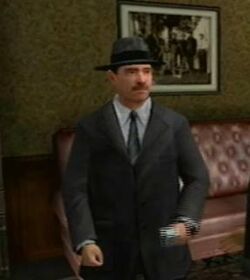 He is voiced by Ralph Peduto.
He's named after Raphael Ruland, a member of Electronic Arts' Production Team
In later versions of the game he sports a moustache.
Ad blocker interference detected!
Wikia is a free-to-use site that makes money from advertising. We have a modified experience for viewers using ad blockers

Wikia is not accessible if you've made further modifications. Remove the custom ad blocker rule(s) and the page will load as expected.