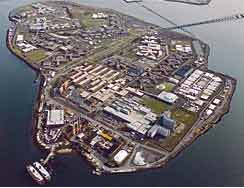 Riker's Island is New York City's primary prison facility, based on an island which bears the same name. Big Bobby Toro was to be sent here in 1954 for his own protection, but he was killed by Aldo Trapani before leaving the police station. As such, relations between the Barzinis and the police cooled considerably, especially after Pietro Testa was killed during a meeting with the Little Italy Police Chief.
Ad blocker interference detected!
Wikia is a free-to-use site that makes money from advertising. We have a modified experience for viewers using ad blockers

Wikia is not accessible if you've made further modifications. Remove the custom ad blocker rule(s) and the page will load as expected.