Senator Rogers was an American senator.
Biography
Edit
He was part of the Senate committee during the hearings of members of the Corleone crime family, such as Willie Cicci, Michael Corleone and Frank Pentangeli in 1959.
In the video game
Edit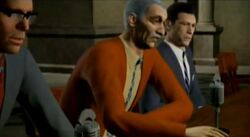 Just like in the movie, he carries out Pentangeli's interrogation.
His design is the same as Robert Rizzo.
Behind the scenes
Edit
He was played by Phil Feldman in the movie and by Tom Chantler in the game.
Influences
Edit
The Senator Rogers is probably based on John Little McClellan and Estes Kefauver, that's also mentioned in the film.