Stanley Jimenez was the underboss of the Granados Family.
Biography
Edit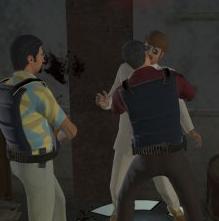 A devoutly religious man, Stanley Jimenez was childhood friend and blood brother and deputy of
Rico Granados
, until thugs and crooks in the real-estate market forced Rico to establish power through less conventional means, forming the Granados Crime Family in
Miami
. He was known to have said 20 Hail Marys after killing anyone with his own hands and carry a string of Rosary beads in his pocket.
During the Trapani - Granados War, Jimenez was strangled to death by Dominic at the Woldman Storage Warehouse in Miami in 1959.