The Godfather Part II
Talk

6
1,882pages on
this wiki
The Godfather Part II is a 1974 American crime epic that Francis Ford Coppola produced, directed, and co-wrote with Mario Puzo, starring Al Pacino, Robert Duvall, Diane Keaton, and Robert De Niro. Partially based on Puzo's 1969 novel, the film is in part both a sequel and a prequel to The Godfather, presenting two parallel dramas. The main storyline, following the events of the first film, centers on Michael Corleone (Pacino), the new Don of the Corleone crime family, trying to hold his business ventures together from 1958 through 1959; the other is a series of flashbacks following his father, Vito Corleone (De Niro), from his childhood in Sicily in 1901 to his founding of the Corleone family in New York City.
The film was released in 1974 to great critical acclaim, some even deeming it superior to the original.[2] Nominated for 11 Academy Awards and the first sequel to win for Best Picture, its six Oscars included Best Director for Coppola, Best Supporting Actor for De Niro and Best Adapted Screenplay for Coppola and Puzo. Pacino won the BAFTA Award for Best Actor and received a nomination for the Academy Award for Best Actor.
Like its predecessor, the sequel remains a highly influential film in the gangster genre. It was ranked as the 32nd-greatest film in American cinematic history by the American Film Institute in 1997 and it kept its rank 10 years later.[3] It was selected for preservation in the United States National Film Registry in 1993.[4]
A sequel, The Godfather Part III, was released 16 years later in 1990.
On the occasion of the 1958 first communion party for his son, Michael Corleone has a series of meetings in his role as the Don of his crime family. With Nevada Senator Pat Geary, he discusses the terms of a fourth state gaming license for the Corleones, but the two only trade insults and demand payoffs. Johnny Ola arrives to express support for Michael on behalf of Florida gangster Hyman Roth. At the same time as the Don tries to manage his depressed sister Connie and older brother Fredo, Corleone caporegime Frank Pentangeli is upset that his boss will not help him defend New York against the Rosato Brothers, who conspire with the Jewish Roth. That night, Michael survives an assassination attempt at his home and puts consigliere Tom Hagen in charge, reassuring him of their fraternal bond.
In Miami, Michael tells Roth that Pentangeli was behind the assassination attempt; he then tells Pentangeli that Roth ordered it and asks him to cooperate. Pentangeli meets the Rosatos; their men ambush him, saying they act on Michael's orders, but a passing policeman interrupts them and they flee, leaving Pentangeli for dead.
Geary finds himself in Fredo's brothel with a dead prostitute and no memory of how he got there; he accepts Tom's offer of "friendship" to cover up the incident.
After witnessing a rebel suicide bombing in Havana, Cuba, Michael becomes convinced of the rebels' resolve to overthrow the dictator Fulgencio Batista. Fredo brings Michael the money for a deal with Roth, but instead of turning it over to Roth, Michael asks who put out the hit on Pentangeli. Roth is reminded of his late friend Moe Greene in a spate of Corleone killing — saying, "This is the business we've chosen. I didn't ask who gave the order because it had nothing to do with business!" At a New Year's Eve party, Fredo lets slip that he knew Johnny Ola despite his previous denial. Dismayed, Michael embraces his brother, revealing that he knows he was behind the plot on his life, and a frightened Fredo flees in the chaos. Michael's bodyguard strangles Ola but is killed by police before he can finish off the ailing Roth. Back home, Hagen informs Michael that Roth is recovering in Miami and that Kay's pregnancy has miscarried.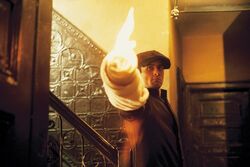 In Washington, D.C., a Senate committee investigating the Corleone family cannot find evidence to implicate Michael until a surprise witness is called. Pentangeli, ensconced in FBI witness protection and ready to avenge the attempt on his life, is prepared to confirm accusations against Michael until his Sicilian brother Vincenzo attends the hearing at the Don's side; Pentangeli denies his sworn statements and the hearing dissolves in an uproar.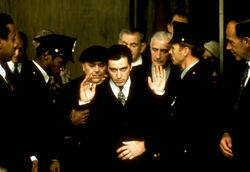 Michael and Hagen observe that Roth's strategy to destroy Michael is well planned. Fredo has been found and persuaded to return to Nevada, and in a private meeting he explains his betrayal to Michael; he was upset about being passed over to head the family, and helped Roth, thinking there would be something in it for him. He swears he was unaware of their plan to kill Michael. He tells Michael that the Senate Committee's chief counsel is on Roth's payroll. Michael disowns Fredo and instructs Al Neri that "nothing is to happen to him while my mother's alive." Afterwards, Michael violently prevents Kay from leaving with their children; she retaliates with the revelation that her miscarriage was actually an abortion.
Michael's mother dies. At the funeral, a reformed Connie implores Michael to forgive Fredo. Michael relents and embraces Fredo, but stares intently at Neri. Roth is refused asylum in Israel. Over Hagen's dissent, Michael plans his revenge. Hagen visits Pentangeli and offers to spare his family, reminding him that failed plotters against the Roman Emperor took their own lives.
Connie helps Kay visit her children, but Michael closes the door on any forgiveness.
As he arrives in Miami to be taken into custody, Hyman Roth is shot in the stomach and killed by Rocco Lampone, who is immediately shot dead by FBI agents. Frank Pentangeli is dead in his bathtub with slit wrists. Neri shoots Fredo while they are fishing on Lake Tahoe.
Michael sits alone by the lake at the family compound.
Behind the scenes
Edit
Casting notes
Edit
Production
Edit
The Godfather Part II was shot between October 1, 1973 and June 19, 1974, and was the last major American motion picture to be printed with Technicolor's dye imbibition process until the late 1990s and was the last major American motion picture filmed in Technicolor.[1] The scenes that took place in Cuba were shot in Santo Domingo, Dominican Republic.[1][5][6] Charles Bluhdorn, whose Gulf+Western conglomerate owned Paramount, felt strongly about developing the Dominican Republic as a movie-making site.
The Lake Tahoe house and grounds portrayed in the film are Fleur du Lac, the summer estate of Henry J. Kaiser on the California side of the lake.[1][5]
The only structures used in the movie that still remain are the complex of old native stone boathouses with their wrought iron gates. Although Fleur du Lac is private property and no one is allowed ashore there, the boathouses and multi-million dollar condominiums may be viewed from the lake.
Unlike with the first film, Coppola was given near-complete control over production. In his commentary, he said this resulted in a shoot that ran very smoothly despite multiple locations and two narratives running parallel within one film.[7]
Production nearly ended before it began when Pacino's lawyers told Coppola that he had grave misgivings with the script and wasn't coming. Coppola spent an entire night rewriting it before giving it to Pacino for his review. Pacino approved and the production went forward.[7]
Coppola discusses his decision to make this the first major motion picture to use "Part II" in its title in the director's commentary on the DVD edition of the film released in 2002. Paramount was initially opposed because they believed the audience would not be interested in an addition to a story they had already seen. But the director prevailed, and the film's success began the common practice of numbered sequels.
Still, three weeks prior to the release, film critics and journalists pronounced Part II a disaster. The cross-cutting between Vito and Michael's parallel stories were judged too frequent, not allowing enough time to leave a lasting impression on the audience. Coppola and the editors returned to the cutting room to change the film's narrative structure, but could not complete the work in time, leaving the final scenes poorly timed at the opening.[8]
George Lucas commented on the film after its five-hour long preview, telling Coppola: "You have two films. Take one away, it doesn't work."
Additional/deleted scenes
Edit
For both The Godfather and The Godfather Part II, many scenes that were shot were not shown in the original theatrical runs but were included in the television adaptation The Godfather Saga (1977) and the home video releases The Godfather 1901-1959: The Complete Epic (1981) and The Godfather Trilogy: 1901–1980 (1992). To date, there has not been a single release that contains all of this footage together in one collection.
A limited time-reduced version of The Godfather Part II was later released because of its runtime. The shorter version was 2hr 7min 56sec rather than the original 3hr 20min 45sec version.
Box office
Edit
The Godfather Part II did not surpass the original commercially, but it was very successful nonetheless, with a $193 million gross on a $13 million budget. For Paramount, it was their highest-grossing film of 1974 and was the fifth-highest-grossing picture in the US that year.
Reception
Edit
The Godfather Part II ranks among the most critically and artistically successful films in movie history, and is the most honored sequel for excellence. Whether considered separately or with its predecessor as one work, it is widely accepted as one of world cinema's greatest achievements. Many critics compare it favorably to the original — although it is almost always placed below the original on lists of "greatest" movies when listed separately.
The Godfather Part II:
Was featured on Sight and Sound's list of the ten greatest films of all time in 1992 and 2002.
Is featured on Roger Ebert's "Great Movies" list, though Ebert's original review of the film granted it only three out of four stars.
Is ranked #7 on Entertainment Weekly's list of the "100 Greatest Movies of All Time".
Is featured on movie critic Leonard Maltin's list of the "100 Must-See Films of the 20th Century".
Received only one negative review on Rotten Tomatoes and a "98%" approval rating, 2 points less than The Godfather (although it does hold a higher rating average of 9.2/10 compared to the predecessor's 9.1/10) but 32 points more than The Godfather Part III.[9]
Is ranked #1 onTV Guide's 1998 list of the "50 Greatest Movies of All Time on TV and Video".[10]
Is ranked #3 on IMDb's Top 100 Movies of all time, with its predecessor The Godfather ranked #2.
Pacino's performance in The Godfather Part II has been praised as perhaps his best, and the Academy of Motion Picture Arts and Sciences was criticized for not awarding him the Academy Award for Best Actor, which went that year to Art Carney for his role in Harry and Tonto. It has come to be seen by some as one of the greatest performances in cinema history. In 2006, Premiere magazine issued its list of "The 100 Greatest Performances of all Time", ranking Pacino's performance at #20.[11] Later in 2009, Total Film issued "The 150 Greatest Performances of All Time", ranking Pacino's performance at #4.[12]
In the chapter "The Speeches We Keep in Our Heads" from her 1998 book Simply Speaking, former television writer and Ronald Reagan's speechwriter, Peggy Noonan, analyzes "Lee Strasberg's great speech, given as Hyman Roth stood, weak and furious, before cold-eyed Michael Corleone" and explains what makes it powerful and memorable. She urges:
Awards and Honors
Edit
Between The Godfather and The Godfather Part II, Coppola directed The Conversation, which was released in 1974 and was also nominated for Best Picture. This resulted in Coppola being the second director in Hollywood history to have two films released in the same year nominated for Best Picture. (The first was Alfred Hitchcock in 1941 with Foreign Correspondent and Rebecca, which won. This achievement was matched by Herbert Ross in 1977 with The Goodbye Girl and The Turning Point and again with Steven Soderbergh in 2000, when the films Erin Brockovich and Traffic were both nominated for Best Picture.)
The film was the first sequel to win the Academy Award for Best Picture.
Academy Awards
Edit
A list of awards the film was nominated for: The film proceeded to win the categories in bold.
Best Leading Actor (Al Pacino)
Best Supporting Actor (Robert De Niro)
Best Supporting Actor (Michael V. Gazzo)
Best Supporting Actor (Lee Strasberg)
Best Supporting Actress (Talia Shire)
Best Script Adaptation
Best Music
Best Artistic Design
Best Costumes & Makeup
Best Director
Best Picture
American Film Institute recognition
Edit
1998 AFI's 100 Years...100 Movies – #32
2003 AFI's 100 Years...100 Heroes and Villains:

Michael Corleone – #11 Villain

2005 AFI's 100 Years...100 Movie Quotes:

"Keep your friends close, but your enemies closer." – #58
"I know it was you, Fredo. You broke my heart. You broke my heart." – Nominated
"Michael, we're bigger than U.S. Steel." – Nominated

2007 AFI's 100 Years...100 Movies (10th Anniversary Edition) – #32
2008 AFI's 10 Top 10 – #3 Gangster film
Trailer of The Godfather Part II
Notes and references
Edit
External links
Edit