Home
Talk

19
2,173pages on
this wiki
Welcome to The Godfather Wiki!
...a collaborative website on The Godfather series.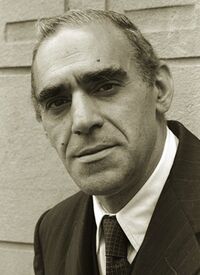 Salvatore Tessio was one of Don Vito Corleone's caporegimes, ruling over the family's territory in Brooklyn.
A Sicilian born youth raised New York, Tessio married his wife Lucille in 1908.
Tessio began with his friends Peter Clemenza and Vito Corleone as low-level hoodlums in New York City's Little Italy. He was already known in the neighbourhood as being both savvy and dangerous, and yet, he had connections from an early age, being good friends with gunsmith Augustino Coppola.
When the three owed money to Don Fanucci, Tessio was the first to concede with Vito's plan of giving the Don considerably less than they had agreed. Shortly after, both men understood that Fanucci had been murdered by Vito, but never mentioned it to him.
It was Tessio who played a major part in the Olive Oil War, personally executing enemy Don, Giuseppe Mariposa. As Vito rose to prominence in the Mafia underworld, Tessio and Clemenza rose with him, each eventually settling into the Caporegime roles. However, Vito informed the two men not to meet together socially, telling them it was a security precaution. Tessio understood immediately that it was merely to prevent the two from plotting against their boss and complied. He was present at Vito Corleone's surprise birthday party in 1941, having supplied the cake.
Tessio owned a social club in
Brooklyn
and made it his base of operations. From there, he managed his soldiers and was very well-connected throughout the borough. Most federal investigators considered Tessio the smarter and savvier of the two capos, though he had mellowed considerably in the decade of peace since the Olive Oil War. In fact, many groups believed that Tessio ran a separate organisation. This was used to the family's advantage several times. (
Read more...
)
Archive

Should Paramount make The Godfather Part IV?

Create blog post
Is there anyone who read the book and who knows the birthplaces of Salvatore Tessio and Peter Clemenza?

Read more >

Legendary Beverly House where gruesome horse head scene in 'Godfather' took place is up for rent: $600,000 per month The Beverly Hills mansion can also be purchased for $115 million. The well-known r…

Read more >

Deal comes after judge refused to allow Paramount's "Godfather" contract to be canceled.

Paramount Pictures and the Mario Puzo estate have settled a legal war over a new Mario Puzo estate. On Thursday…

Read more >
See more >

2,173 articles since July 2007.
1,705 images have been uploaded.
8,087 total pages
63,955 all-time edits
17 active editors