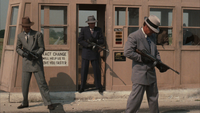 The Thompson submachine gun (nicknamed the Thompson or Tommy Gun) is an American submachine gun, invented by John T. Thompson in 1918, that became infamous during the Prohibition era. It was a common sight in the media of the time, being used by both law enforcement officers and criminals. The Thompson was also known informally as: the "Tommy Gun", "Trench Broom", "Trench Sweeper", "Chicago Typewriter", "Chicago Piano", "Chicago Style", "Chicago Organ Grinder", and "The Chopper".
The Model 1928 was the first type widely used by military forces, with the U.S. Navy and U.S. Marine Corps as major buyers through the 1930s. The original Model 1928s were Model 1921s with weight added to the actuator, which slowed down the cyclic rate of fire, a USA Navy requirement. On these guns, the model number '1921' on the receiver was updated by stamping an '8' over the last '1'. The Navy Model 1928 has several names among collectors: the 'Colt Overstamp', 'The 1921 Overstamp', '28 Navy', or just '28N'.The 1928 Thompson would be the last small arm adopted by the U.S. Army that used a year designation in the official nomenclature. With the start of World War II, major contracts from several countries saved the manufacturer from bankruptcy. A notable variant of the Model 1928 with an aluminum receiver and tenite grip, buttstock, and forend, was made by Savage.
Barzini's hitmen used Thompson M1928s with drum magazines when gunning down Sonny Corleone at the toll booth on the Jones Beach Causeway.
Ad blocker interference detected!
Wikia is a free-to-use site that makes money from advertising. We have a modified experience for viewers using ad blockers

Wikia is not accessible if you've made further modifications. Remove the custom ad blocker rule(s) and the page will load as expected.