Tyrone Bloom was a judge in the New York City Court of Justice.
Biography
Edit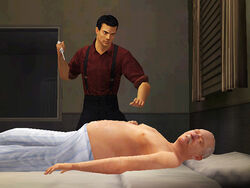 In 1948, Bloom was to preside over a police brutality trial against Police sergeant Chris Ferriera, but he fell ill and was in hospital shortly before the trial date.
While the judge was recuperating in his bedroom, Corleone Soldier Aldo Trapani stole the judge's own medication from the hospital basement, killed the hospital security and gave Tyrone an overdose of the medicine.