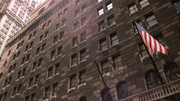 Wall Street is a street in Lower Manhattan, the Financial District of New York. It runs east from Broadway to South Street on the East River. Several major United States stock exchanges remain headquartered on Wall Street and in the Financial District. The Corleone family owned, through fronts, partnerships in two Wall Street brokerage houses, and it was even rumored the Barzini family had a toehold in Wall Street.
After the assassination of Sonny Corleone, a peace meeting of the Dons was held in the director's conference room of a commercial bank in Wall Street.
External links
Edit
Ad blocker interference detected!
Wikia is a free-to-use site that makes money from advertising. We have a modified experience for viewers using ad blockers

Wikia is not accessible if you've made further modifications. Remove the custom ad blocker rule(s) and the page will load as expected.