"I think the public has contempt for me. I mean a man who would let his daughter get murdered, won't see the man get punished, I mean who would entrust the great state of Nevada to man like that?"
―Walter Wavven
Walter Waven was the Governor and later Senator of Nevada.
Biography
Edit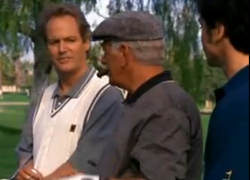 One of the most prized "assets" of the Clericuzio crime family, Waven was a successful politician for most of his life, but relied on the Clericuzios to help satisfy his vices for women and gambling. He was close friends with Alfred Gronevelt, manager of the Xanadu Hotel, and had a Villa on the strip. Waven married a liberal who became his political as well as personal partner, and they had three children.
But Waven's life would suffer a tragic blow when his eldest daughter Marcy, a student at Berkeley, met Theo Tatoski. The two had a love affair, despite Waven's secret contempt for the young man (though publicly he praised the union, as it would make him seem a more accepting political figure) which ended when Marcy met a more suitable partner. One night after attending a play of Theo's which ended disastrously, Marcy was stabbed to death. But thanks to the efforts of lawyer Molly Flanders, Tatoski walked free on the grounds of insanity, and Walter was driven to depression.
"You and I must be very direct... will you run for Senator if that boy is dead?"
"I'll file the day I go to that boy's funeral... to show my forgiveness. My voters'll love that."
―Alfred Gronevelt and Walter Wavven
Waven, distraught, informed the Clericuzios that he would not be running for Senator as they had agreed, implicitly calling for Tatoski's death by saying he would not recover until this had happened. Cross De Lena made his bones by shooting Tatoski outside a restaurant, and Waven attended the young man's funeral, gaining a huge boost for his apparent forgiveness of his daughter's killer. Soon after, Waven ran for, and won, the race for Senator of Nevada.
Behind the scenes
Edit
Ad blocker interference detected!
Wikia is a free-to-use site that makes money from advertising. We have a modified experience for viewers using ad blockers

Wikia is not accessible if you've made further modifications. Remove the custom ad blocker rule(s) and the page will load as expected.